Mel Tillis Debuts at #11 on Billboard Comedy Chart
Tillis Returns to Billboard 53 Years After Charting First Country Hit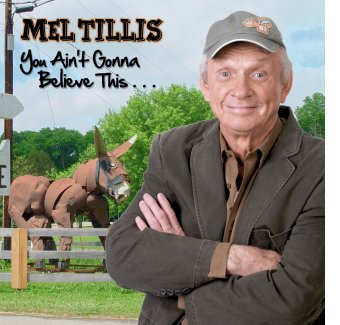 New York, NY (October 7, 2010) – When Mel Tillis received the news that his first ever comedy album, YOU AIN'T GONNA BELIEVE THIS…, debuted at#11 on this week's Billboard Comedy Chart, he was speechless, which, considering his lifelong stuttering problem, is quite normal for the Country Music Hall of Famer.
"My publicist called me and said 'Hey Mel, you ain't gonna believe this!' and I said 'what?'" explains a visibly ecstatic Tillis. "And he said 'You've debuted at #11 on the Billboard Comedy Chart,' and I said 'That's real good but I didn't even know there was one!"
The 23-track album, released on Show Dog – Universal Music on September 21, is holding its own on the chart, alongside some of the nation's biggest comics including"Weird Al" Yankovic, Dane Cook, Robin Williams, Rodney Carrington, Lewis Black and current chart leader, Fred Figglehorn.
Tillis adds, "Man, I've had a lot of hit records and been in the running against tons of other singers throughout my career but this is a brand new game. Hold on to your pants Fred Figglehorn! This country boy's comin' for you!"
One could say that country music legend Mel Tillis has just about done it all during his 50+ years in the entertainment business. Throughout his monstrous career, Tillis has recorded more than 60 albums, has had 35 Top Ten singles, was named the Country Music Association's coveted Entertainer of the Year, is a member of the Grand Ole Opry and holds country music's highest honor as a member of the Country Music Hall of Fame. He has written over 1,000 songs, 600 of which have been recorded by major artists including Kenny Rogers ("Ruby, Don't You Take Your Love To Town"),George Strait ("Thoughts of a Fool"), and Ricky Skaggs ("Honey, Open That Door"). Broadcast Music Inc. (BMI) named Tillis Songwriter of the Decade for two decades.