Reader's Digest Presents:
The Legendary Larry Gatlin & the Gatlin Brothers
Reader's Digest Teams with the Gatlin Brothers for 3-Disc Compilation of Hits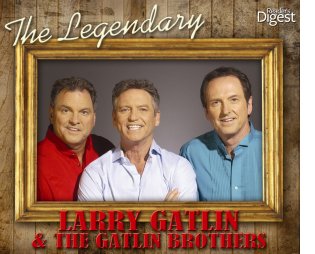 NASHVILLE, TN – August 17, 2010 – Grammy Award winning Larry Gatlin & the Gatlin Brothers have already gone down in the country music history books for their 33 Top 40 Hits, a feat that most can only dream of achieving. With the recent resurgence of the Gatlin Brothers' career, who better to reintroduce society to the band's classic music than one of the nation's best-selling consumer magazines, the Reader's Digest?
"One of the joys of my youth was reading 'quotable quotes' and 'humor in uniform' in the Reader's Digest" says Larry Gatlin. "To be associated with this legendary publication is absolutely fantastic!"
Reader's Digest will exclusively release The Legendary Larry Gatlin & the Gatlin Brothers on September 8, 2010. The 3-disc box set will feature 60 of the Gatlin Brothers' most celebrated career songs, including all 33 of their Top 40 Hits. Consumers can expect original studio recordings of the songs that made Larry, Steve and Rudy Gatlin household names, including their biggest hits, "All The Gold In California," "Houston (Means I'm One Day Closer To You)", "I Just Wish You Were Someone I Love" and "Broken Lady."
"Larry Gatlin is one of country music's greatest singer/songwriters of all time. I am thrilled that we were able to include every track from Larry's incredible debut album "The Pilgrim" in this box set" says Reader's Digest Senior Music Editor John Alexander. "What a joy it was revisiting all these amazing songs that not only inspired and influenced my life, but also elevated the Gatlin Brothers to country music royalty."
The set will be available for purchase through Reader's Digest's fall 2010 catalogue, as well as the publication's online store, which can be found at www.readersdigest.com
.
Track List:
1. All The Gold In California
2. Houston (Means I'm One Day Closer To You)
3. I Just Wish You Were Someone I Love
8. Take Me To Your Lovin' Place
9. What Are We Doin' Lonesome
12. The Lady Takes The Cowboy Everytime
13. She Used To Be Somebody's Baby
16. Statues Without Hearts
19. Taking Somebody With Me When I Fall
20. I've Done Enough Dyin' Today
2. Bitter They Are Harder They Fall
5. Let's Turn The Lights On
7. She Used To Sing On Sunday
8. Midnight Choir (Mogen David)
11. Nothing But Your Love Matters
13. It Don't Get No Better Than This
14. In Like With Each Other
15. Almost Called Her Baby By Mistake
18. Wind Is Bound To Change
19. From Time To Time (It Feels Like Love Again) w/ Janie Fricke
1. Indian Summer w/ Roy Orbinson & Barry Gibb
2. If Practice Makes Perfect
3. You Wouldn't Know Love
5. Texas (Is What Life's All About)
7. My Mind's Gone To Memphis
10. To Make Me Wanna Stay Home
19. Light At The End Of The Darkness
20. It Must Have Rained In Heaven