Media Buzzing as Mel Tillis Nears Top of Nation's
Billboard Comedy Chart
Album, You Ain't Gonna Believe This..., Barrels in at #3;
Proves Grammy Potential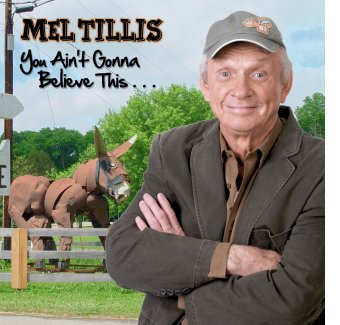 Nashville, Tenn (November 23, 2010) – During the 1960s and 70s, landing a Top 10 hit was nothing out of the ordinary for Country Music Hall of Famer, Mel Tillis. Throughout his solid career, the stuttering legend banked 34 Top 10 hits, 9 of which went to #1. In 1984, Tillis saw his last major hit, when his "New Patches" landed at #10 on the U.S. Country Billboard chart.
Fast-forward to November 2010, 26 years after his last chart-topper. Tillis is back in the national spotlight and sits high atop Billboard at #3, but not for country music… for comedy.
Since releasing his debut comedy album, You Ain't Gonna Believe This… (Show Dog – Universal Music), last September, Tillis has continued his trek up the chart, giving some of America's funniest comics a run for their money.
Though Tillis is no stranger to humor, (he won Nashville's Comedian of the Year on 6 occasions) the album does mark his maiden voyage into comedic territory. However, Tillis sails strong as the treasure trove of laughs has the media buzzing from coast-to-coast:
"

You Ain't Gonna Believe This…

is a masterpiece of comedy!

Mel Tillis

proves

once again why he is one of the greatest men in showbiz!"

– Herbert Eaford,

E! News
"Mel is one of the funniest people in the industry and

this new album lets everyone know that he's still writing, still singing and still funnier than ever!" – John Alexander, Senior Music Editor,

Reader's Digest
"Mel Tillis is the consummate entertainer, but his new comedy album reveals his delightful wit. If laughter is the best medicine, then Mel's album is a strong dose of the good stuff!" – Governor Mike Huckabee, Fox News Channel
"Mel Tillis is a legendary singer, songwriter

and

storyteller.

You Ain't Gonna
Believe This… brings his great gift for telling stories through his unique sense of humor, front and center… right where it belongs!"

-John Marks, Sr. Director of Country

Programming, Sirius-XM Radio

"Mel Tillis' comedy album is a barrel of laughs." – Frank Roberts, The Virginian-Pilot

"If Mel Tillis was as good at singing and

songwriting as

he is at telling funny stories

like the ones on the album, he'd be...

Mel Tillis."

-Rick Allen, Editor,

Vintage Guitar Magazine

"For the self-effacing singer, cracking jokes

at his own pronounced stutter has been part

of his comedic onstage patter for years...

and

his audienc

es love it."

- Jessica Phillips, Country Weekly
Tillis, a former CMA Entertainer of the Year, a member of the Country Music Hall of Fame and Grand Ole Opry and a two-time BMI Songwriter of the Decade has just about done it all throughout his 54-year career. There is one award, however, that has managed to evade his grasp, but now, he just might be within reach. Tillis recently received the news that his hit comedy album appears on the nominating ballot for aGrammy Award.
"I've been in the business 54 years and have won just about everything you can win in country music, with the exception of a Grammy," laughs Tillis. "Maybe this will be the year!"
Catch Tillis on GAC Master Series next Sunday night, November 28, at 9 PM & 1 AM EST.
____________________________________________________________
Billboard Comedy Chart / 11-27-2010 Issue Date:
1. Words Words Words – Bo Burnham
2. Get Him To The Greek (Soundtrack) - Flight of the Conchords
3. You Ain't Gonna Believe This...
- Mel Tillis
4. The Essential "Weird Al" Yankovic - "Weird Al" Yankovic
5. Deflated - James Fritz
6. Stark Raving Black - Lewis Black
7. ISolated INcident - Dane Cook
8. Bigger And Blackerer - David Cross
9. I Told You I Was Freaky (Soundtrack) - Steel Panther
10. Feel The Steel - Steel Panther
________________________________