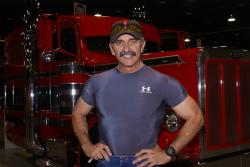 AARON TIPPIN HELPS PUT TRUCKER
'BACK ON THE ROAD'
Country Singer Teams with Arrow Truck Sales in Annual Giveaway
NASHVILLE
, Tennessee (APRIL 8, 2010)—One-time truck driver and an all-time country great,
Aaron Tippin
helped select the winner ofthe third annual
Arrow's "Back on the Road"
campaign. Presented by Volvo Trucks North America, "Back on the Road" is an initiative created in the wake of the downturned economy and awards one deserving driver a new 18-wheeler that, in turn, provides them the opportunity to get back to the road and stay on course.
Tippin has participated in the selection process for the past two years.
"Being a former trucker, Aaron threw his full support behind this worthwhile cause through the use of his voice, music and image, and has insisted on being involved in the actual selection process of our 'Back on the Road' winners,"
said
Lane Bartram, Marketing Manager for Arrow Truck Sales
.
"It's heartening to find people like Aaron in the music and entertainment business who are willing to become actively and emotionally involved in an effort to help change someone's life for the better."
After being nominated by his teenage daughter Savannah,
Robert Snyder of Dunnellon, Fla
. was selected as the winner. As the sole provider for his family, Snyder was hit particularly hard when the economy nosedived. Diesel prices soared, job opportunities became scarce, and Snyder's 14-year-old truck, with more than 1.5 million miles on the odometer, was one breakdown away to leaving him unemployed.
Snyder says winning "Back on the Road" is 'a dream come true.' In addition to winning a one-year lease on a 2007 VNL670 tractor donated by Volvo Trucks, he signed a one-year work agreement with Heartland Express and will receive monthly $500 fuel cards courtesy of Pilot Travel Centers, along with other prizes.
"Driving is my life and I know receiving the Volvo from Volvo Trucks North America and job with Heartland will help me provide my family with the life they deserve,"
Snyder
said.
"I am blessed to have this opportunity to represent Arrow Truck Sales and all the great companies who have joined in this campaign to make life better for hardworking people like me."
"It's a tough time for everyone and I believe the truckers carry a good portion of the burden,"
Tippin
added.
"America thrives on the trucking industry and the hard working men and women who bring goods to our grocery stores and front doors. It does my heart good to be involved in an event, and an association such as this, to keep these folks on the road; working to not only provide for their families, but all of us."