LARRY GATLIN REMEMBERS FORMER FIRST LADY
BETTY FORD ON WEEKEND FOX & FRIENDS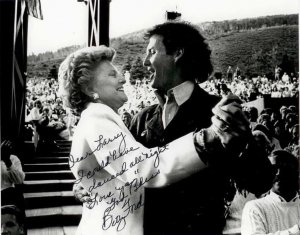 Gatlin Credits Ford for Sobriety, Saving Life
Nashville, Tenn. (July 9, 2011) – Tomorrow morning, July 10, on the weekend edition of the Fox News Channel's Fox & Friends, country music star Larry Gatlin remembers Betty Ford, former First Lady and wife of President Gerald Ford.
Gatlin, a recovering alcoholic and drug addict, credits Ford in helping him reach sobriety and ultimately, for saving his life.
"By her actions and her example of sainthood, I am alive today," notes Gatlin. "Miz Betty, as I called her, was the one who made it OK for us drunks to 'come in from the cold.'"
Ford passed away yesterday at the age of 9
3.
Read Gatlin's Betty Ford remembrance commentary HERE.
The list of Betty Ford Center Nashville folks is a long one....includes Johnny Cash:
from NYT 1983
RANCHO MIRAGE, Calif., Dec. 21— Johnny Cash, who underwent ulcer surgery last month, is seeking to avoid drug dependency at the same treatment center in which Elizabeth Taylor is a patient, Mr. Cash's sister Reba Hancock said today.
Mrs. Hancock said the country singer and actor checked into the Betty Ford Center on Tuesday. Mr. Cash, who is 51 years old, ''wants to make sure he doesn't have a problem'' because ''he had a drug problem in the past, 20 years ago,'' she said.
Mrs. Hancock said Mr. Cash had suffered severe back spasms and also underwent ''extensive'' surgery for an ulcer that was aggravated during a recent three-week European tour. She said he also had surgery on his hand, and ''he wants to suffer no ill effects from the painkillers he had to take.''
and keith urban:
Nicole Kidman made a visit to hubby Keith Urban at the Betty Ford Center yesterday morning in Rancho Mirage, CA. Nicoleand Keith look like they shared a number of intimate moments during their time together. She reportedly told him that she is pregnant (probably a completely fabricated rumor, by the way). Keith was admitted to the 30-day rehab program at the Betty Ford Center almost a month ago — Oct. 19. Looks like Keith's on the road to recovery…
and the legend Tammy Wynette...