Entertainment reporter based in Nashville..updates on music,movies and everything else that could go on around the music community. Nashville news and commentary.
Thursday, March 31, 2011
Local Bands to Play for Massive Moving Crowd for 2011 Country Music Marathon & ½ Marathon
·
Band lineup announced for 12th annual race
·
More than 30,000 expected for miles and miles of music
Nashville, TN – (March 31, 2011) – When it comes to music, Nashville dreams tend to run big.
For more than 40 local bands, Saturday, April 30th will be the ultimate gig at one of the city's premier events. The Country Music Marathon & ½ Marathon presented by Nissan returns for a 12th year, welcoming more than 30,000 participants to a running tour of Music City.
The bands chosen will play on 28 stages along the half and full marathon courses, entertaining and motivating runners as they push through the miles. The block party atmosphere has become a familiar Nashville sight, with runners often dressed in costume, cheerleaders, and thousands of spectators lining the streets.
"It's a real opportunity for these local musicians to get some exposure to a wider audience, as a large percentage of our runners will be visitors to Nashville," said Adam Zocks, General Manager. "We take great pride in choosing a diverse, very talented group of bands that will bring high energy and an exciting atmosphere to race day."
Runners can look forward to acts like the Randy

McLellan

Band,

Skyla

Spencer, Terry Lee Bolton, The Little Uglies

,the

Lava Girls and Porter Hall Tennessee. The sounds of jazz, country, rock 'n' roll, swing and blues will have runners singing along as they move toward the finish line.
Later that evening, runners will complete the ultimate country music experience as Nashville legends Montgomery Gentry take the stage at Bridgestone Arena for the post race concert.
Spectators, family and friends are encouraged to enjoy a day of free live music as they cheer on the runners passing by. A full list of bands and the best locations for spectators are available online at
Competitor.com
.
The Country Music Marathon & ½ Marathon presented by Nissan will begin at 7:00am at Centennial Park.

Runners will enjoy many of Nashville's most historic sites like the Parthenon and Nashville's world-renowned Music Row and an expansive finish line festival outside the Tennessee Titan's home, LP Field, located along the Cumberland River.
Runners can get prepared for race day at the Health & Fitness Expo presented by Power Balance on Thursday, April 28th and Friday, April 29th The expo is free and open to the public and takes place at the Nashville Convention Center. A runner's ultimate resource, the Expo brings together nearly 100 exhibitors offering the best in gear, nutrition, and training along with legendary running experts and athletes hosting interactive clinics.
More than 4,700 kids in grades K-7 will run a marathon of their own at ING

KiDS

ROCK Nashville on Friday, April 29th. The cumulative

kids

marathon program aims to tackle childhood obesity by demonstrating that physical activity can be fun and instilling a lifetime love of fitness. ING

KiDS

ROCK Nashville is sold out.
Registration is still available for both the full and half marathon. To sign up or for more information, please visit
Competitor.com
.
About the Country Music Marathon
A Rock 'n' Roll Marathon Series event, on Saturday, April 30, 2011, the Country Music Marathon & ½ Marathon presented by Nissan will celebrate its 12thannual running in Music City. Featuring many of Nashville's best live bands on 28 stages along the 26.2 and 13.1-mile courses, the musically themed road annually attracts 35,000 runners, walkers and junior racers. Race weekend kicks off with a two-day Health & Fitness Expo on Thursday, April 28 and includes the ING

KiDS

ROCK Nashville and a post-race concert Saturday night at the Bridgestone Arena. The Nashville Convention Center is home to the free Health & Fitness Expo which is open to the public as all race participants pick up their race number, browse through fitness related products, enjoy free samples and interactive clinics. For more information, please visit
www.nashville.competitor.com
or follow us on Twitter @

runrocknroll

.
Headquartered in San Diego, Competitor Group, Inc. (CGI) is the leading endurance media and event entertainment company dedicated to promoting the sports of running, cycling and triathlon. CGI owns and operates 45 national endurance events, including the Rock 'n' Roll Marathons Series,

TriRock

Triathlon Series and Columbia Muddy Buddy Series; which will deliver more than 400,000 professional and amateur participants in 2011. CGI publishes four magazine titles including VeloNews, Inside Triathlon,

Triathlete

and Competitor magazine with a combined monthly circulation of over 800,000. In addition, the company holds a captive online endurance community at competitor.com delivering over 1.5 million monthly unique visitors and 25 million page views. Further information about Competitor and its media properties can be found at
www.competitormediakit.com
.
Posted by

Jimmy Carter
at 4:30 PM
No comments:


Wednesday, March 30, 2011
TAYLOR SWIFT TOPS 20 MILLION IN RECORD SALES
TAYLOR WRAPS OVERSEAS LEG OF SPEAK NOW WORLD TOUR 2011 WITH SOLD-OUT SHOW AT LONDON'S O2 ARENA
London, UK / Nashville, TN – March 31, 2011 – Taylor Swift
has surpassed the 20 MILLION milestone for album sales,
it was announced last night just prior to her wrapping the overseas portion of her SPEAK NOW WORLD TOUR 2011 with a
sold-out show at London's O2 Arena
.
Taylor has sold 10 million albums in the last 18 months – she reached the 10 Million albums sold mark in September of 2009.
Big Machine Records and Universal Music International executives presented Taylor with a plaque commemorating the achievement at a special backstage event at the O2.
The 20
M
illion number represents actual full albums sold – in addition, Taylor has sold over 33 million paid song downloads, making her the top-selling digital artist in music history.
20 Million + is the worldwide combined sales total for her three Big Machine Records studio albums:
Taylor Swift
(released in 2006),
Fearless
(2008), and
Speak Now
(October, 2010), plus
The Taylor Swift Holiday Collection
and
Beautiful Eyes
(a Walmart-only release).
Taylor has earned Gold, Platinum and Multi-Platinum album sales certifications in 18 countries spanning 5 continents.
Taylor's 20 million + albums sold include the following:
Taylor Swift
5,534,805
units US & International
Fearless
8,681,753
units US & International
Speak Now
4,850,246
units US & International
The Taylor Swift Holiday Collection
788,353
units US
Beautiful Eyes
257,047
units US
21-year old Taylor, who writes all of her own material, sold more albums than any other artist in any genre of music in both 2010 and 2008, and her
Fearless
album was 2009's top-selling CD.
At the age of 20, Taylor won 4 GRAMMY Awards, making history as the youngest-ever winner of Album of the Year. She was
Billboard
's Most-Played Artist in both 2009 and 2010, and w
ith the release of
Speak Now
, Taylor made history on the
Billboard
Hot 100, charting a record-breaking 11 songs from one album in a single week.
Taylor, who just celebrated her 7
th
#1 record, currently holds the
Billboard
all-genre records for the longest charting album of this century, for most Top 20 debuts in a calendar year, and for the largest overall airplay audience for a country-based act.
Taylor's sales success is matched by her critical acclaim, as she receives rave reviews for both her albums and live shows from top critics around the world. Her last two albums each earned 4-star reviews in
Rolling Stone
, and
Entertainment Weekly
named Taylor 2010's Entertainer of the Year.
Last night's London O2 show marked the conclusion of the overseas leg of the SPEAK NOW 2011 WORLD TOUR, which launched February 9
th
in Singapore.
Taylor just added 16 new dates to the North American portion of the tour, which kicks off May 27
th
with two sold-out shows at Omaha's Qwest Center, and now wraps with two shows at Madison Square Garden just before Thanksgiving.
In total, Taylor will have headlined 97 stadium and arena shows around the world this year.
Taylor is currently nominated for four Academy of Country Music Awards, including the evening's biggest honor, the fan-voted Entertainer of the Year Award
. Earlier this week, the Academy of Country Music announced that Taylor will be awarded their Jim Reeves
International Award for her "outstanding contributions to the acceptance of country music throughout the world." Past recipients of this prestigious award include Garth Brooks, Dick Clark, Merv Griffin, Buck Owens and Dolly Parton.
This week, Taylor's Twitter feed, @taylorswift13, was selected by the editors of
Time
magazine as one of their 140 Best Twitter feeds.
The influential tweeters were selected because their feeds are "shaping the conversation" online.
In addition to her more than 5.7 million Twitter followers, Taylor has over 19 million Facebook friends
.
A complete listing of all of the dates of the
TAYLOR SWIFT SPEAK NOW WORLD TOUR 2011 is available at
www.taylorswift.com
.
Posted by

Jimmy Carter
at 7:17 PM
No comments:


Broken Bow Records and Sister Label, Stoney Creek Records,
Hold the No. 1 and No. 2 Spots on the
Country Radio Charts, Country RingScan and CMT Top 20 Countdown
Nashville, TN
(March 30, 2011)--
Broken Bow Records
and sister imprint, S
toney Creek Records
, currently hold the
No.1
and
No. 2
spot the
Billboard
and
MediaBase
charts for
Jason Aldean's
"Don't You Wanna Stay," and
Thompson Square's
"Are You Gonna Kiss Me Or Not." Both songs have been the top-selling country ringtones on
RingScan
for the past
nine weeks
. The accompanying music videos also hold the
No.1
and
No.2
positions on
CMT Top 20 Countdown
.
Thompson Square Jason Aldean
"Are You Gonna Kiss Me Or Not" "Don't You Wanna Stay"
Billboard
1 2
Mediabase
1 2
RingScan
(Country) 1 2
CMT
2 1
"We have been fortunate to have artists who have created great music and also to have the best promotion and marketing teams in Country music, " says
SVP of Operations Rick Shedd
. "We could not be more proud of these accomplishments and the unlimited potential for our artists."
This is Thompson Square's and Stoney Creek's first #1 single and Jason Aldean's 6th #1 single.
Stoney Creek Records (SCR) was founded in March of 2009 by
CEO/President Benny Brown
as a continuation of the passion and determination that spawned the success of sister imprint, Broken Bow Records (BBR). BBR and SCR are divisions of This Is Hit, Inc.
Posted by

Jimmy Carter
at 3:19 PM
No comments:


JASON ALDEAN CHOOSES FAN-FAVORITE TRACK
"DIRT ROAD ANTHEM" AS THIRD SINGLE OFF
MY KINDA PARTY
Aldean to Debut "Dirt Road Anthem" on 46th Annual Academy of Country Music Awards
Nashville, TN – March 30, 2011 – ACM Entertainer of the Year and Male Vocalist of the Year nominee Jason Aldean will release "Dirt Road Anthem" as the third single off his PLATINUM selling album MY KINDA PARTY. The fan-favorite track that suggests Aldean's influences range from Snoop Dogg to Charlie Daniels will make its network television debut when he performs live Sun., April 3 on the 46th Annual Academy of Country Music Awards on CBS. The song will be on country radio's desk and available via PLAY MPE on April 4.
"I always get excited to test new songs out on the road," said Aldean. "This one is a little different because it kicks off with the chorus, so everyone starts sorta grooving along with it...and then we hit that first verse with the rapid fire lyrics, and the fans go nuts. I know we're pushing some boundaries with a song like this, but I also think people expect that from me now. I'm really taking the fans' lead on this one, but I think it's going to be a killer single for us on the road this summer."
To stream "Dirt Road Anthem," click here: http://www.thegreenroompr.com/jasonaldean.html
MY KINDA PARTY has already spawned the three week No. one smash "Don't You Wanna Stay" with Kelly Clarkson, and its title track took the top spot on the Mediabase country singles chart in December. The album hit big out of the gate, selling over 193,000 albums its first week, more than any debut by a male vocalist in over three years and was certified PLATINUM only eleven weeks after release.
Following the ACM Awards, Aldean will pick his MY KINDA PARTY tour back up for 38 more dates through August. For a full list of appearances and upcoming tour dates, visit www.jasonaldean.com.
Posted by

Jimmy Carter
at 3:15 PM
No comments:


CMA TO HOST SECOND ANNUAL VOLUNTEER FAIR FOR CMA MUSIC FESTIVAL THURSDAY, APRIL 7 AND SATURDAY, APRIL 9
NASHVILLE - CMA is once again looking for top-notch volunteers to help during 2011 CMA Music Festival which will be held Thursday through Sunday, June 9-12, in Downtown Nashville. This marks the second year the trade association has asked the citizens of Middle Tennessee and beyond to help the Nashville community by serving as ambassadors during the event. Half of the net proceeds from 2011 CMA Music Festival will be donated to support music education in Metro Nashville Public Schools through CMA's Keep the Music Playing program.
"Through the generous help of last year's nearly 300 volunteers, we were able to give $2.9 million back to the community by supporting music education and flood relief," said CMA Chief Executive Officer Steve Moore. "Our volunteers stepped up as ambassadors for Nashville, and we look forward to once again turning their benevolent efforts into much needed funding for the music students in Metro Nashville Public Schools."
Anyone interested in volunteering can attend CMA's Volunteer Fair from4:00-7:00 PM/CT, Thursday, April 7 or 10:00 AM-2:00 PM/CT, Saturday, April 9 at the CMA office at One Music Circle S., Nashville (TN, 37203) to fill out an application and learn more about the volunteer opportunities. Those who cannot attend the Volunteer Fair may also submit an application online at CMAfest.com.
There are some requirements to volunteer: You must be at least 18-years-old, in good physical health, and able to work a minimum of two days during the Festival. Many of the jobs require standing for long periods, extensive walking, some light lifting, and outside duties in the heat (and possible rain). Jobs range from manning the information booths, to handing out product samples, to keeping the photo lines running smoothly. Some posts require a valid Tennessee driver license. Volunteers are also needed for the CMA Music Festival kick-off events on Wednesday, June 8. CMA will provide volunteers parking, event T-shirts, catering during working hours, and two tickets to one of the nightly shows at LP Field.
Celebrating its 40th anniversary since starting as Fan Fair® in 1972, CMA Music Festival is Nashville's signature music event.

Dubbed by USA Today as "the crown jewel of Country Music festivals." the event features concerts, autograph signings, family activities, and more. In 2010, the Festival drew
a record-setting 65,000 fans from all 50 states and 26 nations. CMA Music Festival is a four-time winner of the International Entertainment Buyers Association's LIVE! Award for Festival of the Year (2004, 2006, 2008, 2010).
The Festival has benefited charity since 2001, but in 2006 the CMA Board of Directors decided to channel all funds to one central cause important to all the artists who participate in the event - music education in Metro Nashville Public Schools - through a partnership with the Nashville Alliance for Public Education. To date, CMA has donated more than $4.7 million
to purchase the much-needed musical instruments and equipment
that give students a strong reason to remain in school, as well as to help fund
the Country Music Hall of Fame and Museum's "Words & Music" program, which assists language arts and music teachers with classroom instruction in the basics of songwriting.
CMA Music Festival's financial impact extends beyond its charitable merits.
According to the Nashville Convention and Visitors Bureau, direct visitor spending generated by the Festival totaled more than $23 million.
Posted by

Jimmy Carter
at 3:14 PM
No comments:


CHARLEY PRIDE 'MAKES HIS MARK' ON MISSISSIPPI
Pride Gets Very Own Mississippi Highway Road Marker
Nashville, Tenn (March 30
, 2011) -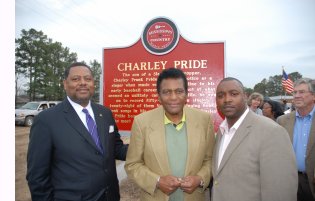 Country music legend Charley Pride has been honored with his very own road marker on theMississippi Country Music Trail. The ceremony was held Tuesday, March 29, at 1 p.m. on Highway 3 in Pride's hometown of Sledge, MS. A portion of the highway has also been renamed "Charley Pride Highway."
(Photo credit: Jeff Holder; L to R: MS Senator Robert Jackson,
Charley Pride, MS Country Music Trail's Alex Thomas )
"I'm honored and humbled at the same time. It was wonderful!" gushes Pride. "Who'd have thought that a kid who walked four miles to school and four miles home every day would ever get such a tribute?"
Charley Frank Pride first garnered notice as a singer when music was just a sideline to his early baseball career. Taking a shot at what seemed an unlikely music career in Nashville, he went on to record 52 Top 10 singles, including 36 No. 1 hits. Singing honky tonk songs in his remarkable baritone, Pride has become a country music legend and the most successful African American artist of the genre.
Born on March 18, 1938, Pride was one of 11 children and the outgoing son of poor sharecropper parents. Pride family entertainment focused on the radio – dramas, baseball broadcasts and his father Mack's favorite, the Grand Ole Opry. Even though Pride would first pursue baseball as a career, music was never absent. He would sing for teammates on bus trips and make appearances in Montana clubs. After a Nashville audition launched Pride's career, from there it was a legendary story in the making.
Pride's greatest success came in the early- to mid- 1970s, when, at that time, he became the best-selling performer for RCA Records since Elvis Presley. He has won multiple awards and honors including: the Country Music Association's Entertainer of the Year (1971) and Male Vocalist of the Year (1971, 1972), the American Music Award's Favorite Country Album (1973) and Favorite Country Male Artist (1973, 1976). In 1972, Pride won a GRAMMY Award in the Best Country Vocal Performance category for "Charley Pride Sings Heart Songs." He has also been inducted into Country Music Hall of Fame, theGrand Ole Opry and has his very own star on the Hollywood Walk of Fame.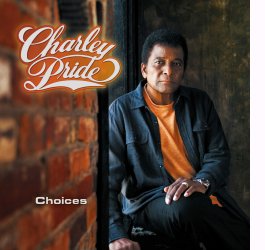 Charley Pride has traveled a lot of highways and seen many mile markers, but his journey isn't over yet. He continues to tour regularly and recently released his first studio album in five years, Choices(Music City Records).
*High resolution photos available upon request
Posted by

Jimmy Carter
at 3:13 PM
No comments: